Papaya Polls Survey Service - Design. Deploy. Analyse.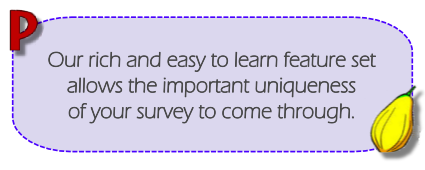 On the surface, an online survey service is easy. All you need to do is provide a way for users to design a survey, deploy it, and analyse the responses. However, as always, it's the details that count.
Design.
Deploy.
Analyse.
---
Are your a student, a corporate user, or a professional research organization? Have a look at these pages to see what Papaya Polls has to offer users just like you!
Papaya Polls strives to provide the highest value in hosted survey services for all classes of survey creators. We are proud of our service and the value that we provide to our customers. In fact we encourage you to prove this for yourself. Look at our feature list. Compare our prices. Take advantage of our Free Trial.
Learn more about our survey features
Examine our list of the most important features of our hosted survey service.
Learn more about packages and pricing
Find the survey package and options that are right for you.
Try our service for yourself
Prove that Papaya Polls is the right survey service for you by using the real thing. Open a free trial account by filling out our Sign Up form.